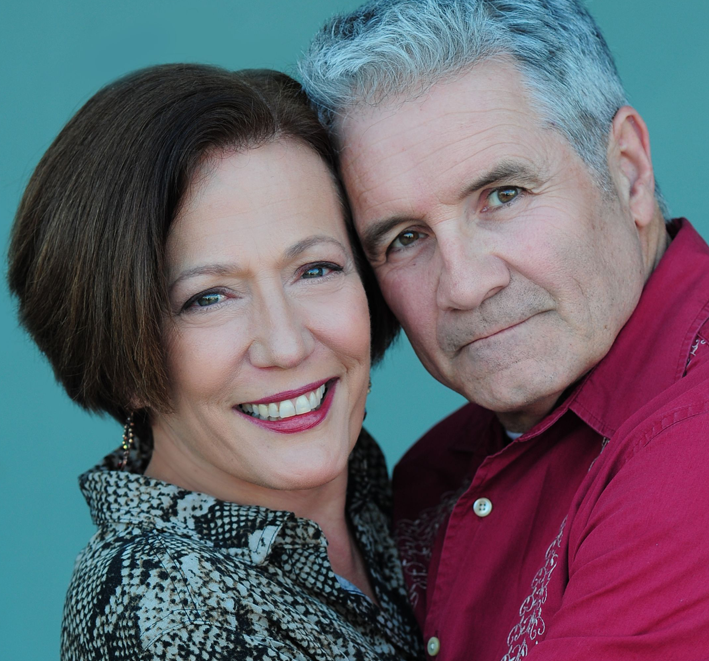 Laura and Rick Hall
Biography
Rick and Laura met in Chicago working with The Second City National Touring Company. They continue to write, teach and perform, both separately and together. Rick & Laura lead music improv workshops at colleges, comedy clubs, festivals and theaters around the world, bringing a unique dual perspective as an improvising actor and musician.
Laura Hall is best known as the improvisational pianist and Musical Director on the hit TV show, "Whose Line is it Anyway", which ran for nine years on ABC, with Drew Carey hosting. After a hiatus the show is currently in its seventh season on the CW Network, with Aisha Tyler hosting. In 2018, Laura played with the Whose Line Christmas Show at Royal Albert Hall in London, celebrating the 30th anniversary of the British & American versions of the show.
While at The Second City, Laura was Musical Director and Composer for the Jeff Award winning E.T.C. revue, "Channel This!" She toured the world with "Drew Carey and the Improv All Stars", and has played with countless improv groups including The Improv Institute, iO and iO West, Groundlings, Theatresports, ComedySportz, and "Opening Night: The Improvised Musical!" She composed original musicals at The Annoyance Theater and Theater-A-Go-Go, including "Patty, Patty, Bang! Bang!" which won an L.A. Weekly award for Best New Musical. Laura has created "Improv Karaoke", which are fully produced tracks to help improvisers learn how to do music improv. She has an online video course, "A Musician's Guide to Improv Comedy" and a book, "The Improv Comedy Musician: The Ultimate Guide to Playing Music with an Improv Group" to teach musicians how to do what she does on Whose Line and in live improv shows.
Rick Hall was a founding member of Chicago's Improv Institute. At The Second City he created and performed in two Main Stage shows, "John Paul Sartre & Ringo" and "Catch 27". Rick currently improvises with "Immediate Theater", and uses his improv skills as a host/presenter at meetings and corporate events, as well as auditions, television shows and commercials. Rick was a series regular on the improv-based TV show "The Factory". He played Agent Johnson on 28 episodes of the hit Disney show, "KC Undercover". He's been on many other television shows including
"NCIS", "Curb Your Enthusiasm", "24", "Key & Peele", "The Middle" and "Seinfeld". He's been seen in commercials for AT&T, Centrum, Sabra Hummus and many more. Currently Rick can be seen on the indie film circuit as Detective Chowder in "The Long Isolation", a zoom noir written and directed by Deb La Custa and Dan Castellaneta from The Simpsons. Rick is an accomplished writer and storyteller. He's headlined at "The Reboot: Storytelling Re-Imagined", "The Otter Story Hour", "Story Salon", and "Open Words Expo". His one man show, "Pigboy", about growing up on a farm in Central Illinois, was chosen for the HBO Comedy Arts Festival in Aspen, and enjoyed successful runs in L.A., Chicago, and across the Midwest. Rick has recorded a cd of several of his stories and turned one of them, "Slice of Pie", into a short film, which won numerous awards on the film festival circuit.
To find out more about Laura, visit www.laurahall.com.
To find out more about Rick, visit www.therickhall.com.
All session by Laura and Rick Hall
1:30 pm - 3:30 pm
Crystal Meeting Room
9:15 am - 10:30 am
Crystal Meeting Room
10:45 am - 12:00 pm
Crystal Meeting Room